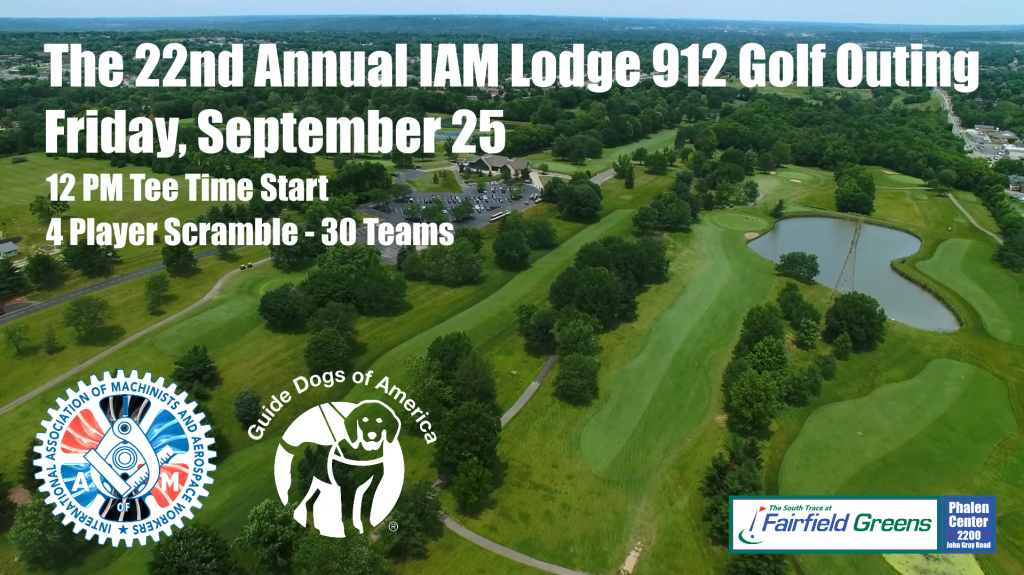 Don't miss this year's IAM Lodge 912 Golf Outing at Fairfield Greens South Trace!  The fun kicks off with a 12:00 PM tee time start on Friday, September 25.  The $75/person entry fee includes 18 holes of golf with cart, followed by a BBQ pulled pork dinner and four drink tickets.  There are prizes for 1st, 2nd, 3rd place teams, along with a skins game, closest-to-pin, and longest drive.  Get your 4 player team together now – only 30 teams get in this year!  First come and paid are in – Tee times will be published on Monday, Sept. 21.
IAM Local Lodge 912 was chartered on January 24, 1952 – that's 67 years of helping working families.
Pensions, medical insurance, paid vacation, holidays, personal time, sick pay, shift differential, apprenticeship and training opportunities, higher education, safe working conditions, and protections against unsafe work practices – These benefits are generally not only better in a union shop, many of these don't even exist without a union contract.
Stay informed and stay involved.
Stay union strong.
The 2019 IAM LL 912 Golf Tournament raised $6,336 for the Guide Dogs of America!  Thanks to all of our golfers and volunteers.