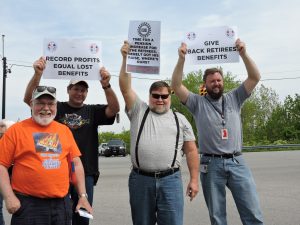 Evendale, Ohio – There was a great turnout on Wednesday, April 26 for a Retirees Against GE Healthcare Changes (RAGEHCC) rally.  Workers from GE Aviation were well represented – as members from IAM Lodge 912 and UAW Lodge 647 joined with retirees from GE Evendale, Bloomington, Fort Wayne, and Louisville.  Young and old gathered together to show GE that they care about retirees and their rights.
GE retirees face some important issues – like reduced pensions, health care coverage changes, Social Security, and Medicare.  There are thousands of RAGEHCC members who are acting to protect the benefits they earned.  They work both by legislation, in legal settlements, and at bargaining tables across the US.
"Together, we will take on employers and those in Congress who view retired workers as expendable liabilities," states their website.
For more information, go to their websites:
https://www.facebook.com/ragehcc/